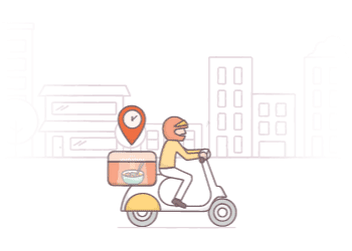 Digital technology has paved the way for better customer interaction and that also brings new business model into action. Undoubtedly, the digital technology has disrupted the fast food market as more and more people love to order online. If you are looking for fast food delivery service in Dubai, then you should choose us because we are the most competent one in the market.
Advanced Technology: We have a fast food delivery app so that you and customers can track the status of the order. We understand the agility behind hunger, therefore, we make sure that everything can be monitored and tracked and that makes us the most preferred fast food delivery service in Sharjah.
Information is our ballgame:
We as the best fast food delivery service in Ajman understand the fact that information is necessary for this business. The right address, the right people and the right amount of the bill are the things that matter. Therefore, as the budding fast food delivery service in UAE, we thrive to maintain accuracy through smart apps and technologies. In addition, we know all the street here right in UAE better than anybody else.
Keeping things fresh:
We understand the fact your customers are looking for fresh food, therefore; we have deployed smart temperature control system in our vehicles to keep food hot and cold. Our staffs are also trained to operate those systems. This technological advancement makes us one of the best and most preferred food delivery companies in Dubai.


We are personable:
Food delivery is not about getting the food delivered at the right time and right place. Undoubtedly, that is the central factor but then, there is this human factor that cannot be ignored. A smile, a jovial gesture and firm handshake can make your brand a top of the mind brand.

Therefore, we train our delivery guys to behave in a professional manner. All our staffs are groomed and trained in hospitality industry protocols and etiquettes.


We deliver, deliver and deliver:
We are one of the best food delivery companies in Sharjah that offers reliable service. Be it a rainy day or a heavy traffic day, we make sure that we deliver food to your customers irrespective of the unpredictability of situation and events.


We believe in details:
We have an eye for details. Be it getting the right address or keeping the food hot while in the transition or getting the bills, we never let things go unnoticed. In fact, we look closely to make sure that everything is organized and perfect. If you are looking for food delivery companies in Ajman that are organized, then you should choose us.


Cost is good like your food:
You might want to deliver good food to your customers and that does not mean that you can break your bank account. We make sure that we offer a cost-friendly solution is that companies of all sizes can affair our service and this makes the best food delivery service in Sharjah.

It is time to capitalize on the growing food market that is looking for fast and quick delivery. We as the most preferred food delivery service in Ajman make sure that we deliver food at the right time to your clients. It is our quick approach, technological capability and sense of professionalism that makes us the best.
© 2020 Tawseel. All Rights Reserved