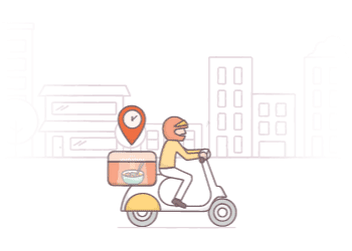 Increase Your Business with Best Food Delivery Service
Food delivery is becoming very popular as ordering food online is increasing by time. Besides, people walking to restaurant, they also order food online being at their home and workplace. The most significant activity of owning a restaurant is to choose the best food delivery service provider. Owning a restaurant in UAE, it is very much advisable to choose one of the most popular food delivery companies in Sharjah. Pick the most fantabulous service provider to offer the most outstanding delivery service to your customers.
Best Service at Competitive Price
Looking one in Sharjah? Choose Tawseel LLC!We areplaying major role in delivering your food in the best way possible. We have a team of licensed drivers who are well-versed in shortest possible routes of Sharjah and offering all chances to deliver the food within shortest possible time. These drivers are well-trained and they carry themselves well and pleasing. We understand that we carry the image of the restaurant and are more committed to work. These drivers and mentors are well experienced for years. We are the best options for cheap parcel delivery in Ajman as our rates are much favorable to even small restaurants in UAE. Nevertheless, our service is one of the greatest of all in respect to everything from pick up to delivery.
Your Business Is Ours
We understand how important to delivery your food hot to your clients. The most important of all is the taste. If the food is hot, it will be tasty and flavorful. Our services are the greatest promise to deliver your food fast within the best possible time. We understand the realm of your business as there will so much of frozen stuffs will be used for preparing the best food for your customers. These foods had to be delivered within stipulated time for it to remain hot, failing which you may lose your customers. We consider your business as ours and do a great favor with respect to everything we perform. Hence, we make sure to deliver your food from your restaurant to get delivered promptly without damaging the packing of the food and packing plays a major role in food delivery.

Timely Delivery of Food
Traffic is one of the major problems in UAE. We ensure to deliver the food at best possible time as our drivers are well-versed with the routes with which they can reach a particular place at the best possible time. Choose us for fast food delivery service in Sharjah. With our customer friendly application, it is very easy for your customers to order food online with us. Get associated with us for increasing your business by offering business to us. We are a great promise for quick and neat service. We deliver food neatly and make your customers feel as though they are having the food at restaurant. We help in branding your food well make the customers aware about your reputation in the best possible way. We are known for our robust customer service with are 24/7 customer support system in handling customer queries.
© 2020 Tawseel. All Rights Reserved